The former drummer of the Beatles, Ringo Starr, is back in Japan for the first time in 2 and a half years. With Steve Lukather (TOTO), Colin Hay (Men at Work) and Hamish Stuart (Average White Band) in his all-star band, the Ringo Starr & His All Star Band toured all over the country, playing 9 shows in 7 cities. It successfully wrapped up at ORIX THEATER in Osaka on April 11.

On March 27, he sat with RSJ at Fukuoka Sunpalace Hotel and Hall in Fukuoka. It was only 10 minutes right before his first show of this tour began but he talked about how happy he was back in Japan for the tour, his new album and the new Beatles documentary film (directed by Peter Jackson) to be made this year. He also showed an interest in a project <#dearMoon Project> by a Japanese entrepreneur Yusaku Maezawa and sent a shout-out to him.

Given the history of the Beatles, they covered Doctor Feelgood & the Interns' "Mr. Moonlight" on their 4th album "Beatles for Sale." In 2008, their song "Across the Universe" written by John Lennon was transmitted to Polaris as the commemoration song for the 50th anniversary of NASA. Also he made a parody of "The Day the Earth Stood Still" on the cover of his solo album "Goodnight Vienna." All of these incidents lead us to think his interest in the outer space is obvious.

The <#dearMoon Project> is a spectacular private space project to travel 384,400 kilometers to the moon with top class artists. What does Ringo feel about the project? Does he want to go to the moon?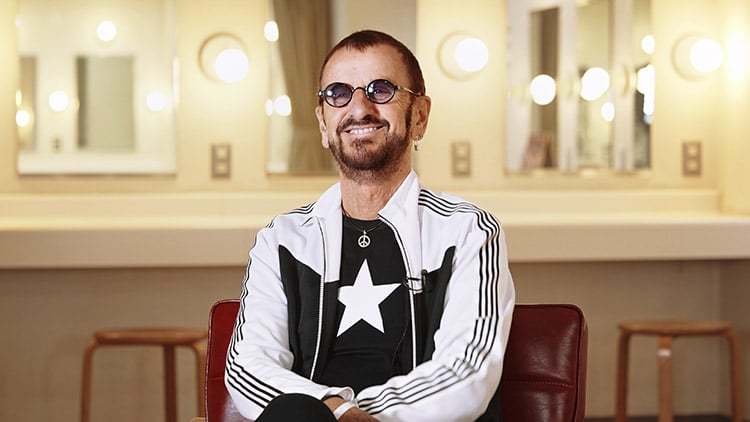 Ringo Star :Played the drums with the Beatles. In 1970, his career as a solo musician started when the Beatles broke up. He also starred in movies. With his current project Ringo Starr and His All Star Band, he energetically goes on the road.
His All Star Band tour in Japan
You are touring around all the time. What makes your Japan tour different and exciting? What pumps you up?
Ringo :Well, I just love to play. And it's a bit boring playing drums on your own. So I have different musicians who have all had hit songs, great players.
You are working on a new album, aren't you?
Ringo :I'm working on a new record, yeah. I do it at home. I know a lot of musicians and writers. They come for a cup of tea and we end up writing a song. And we go into this little space I have and we put it down. Well, (it's) not completed but very close.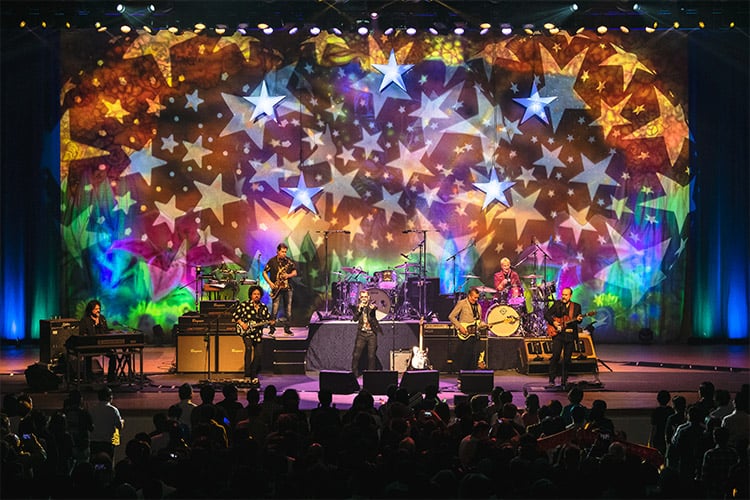 Photo by Masanori Doi
New Beatles documentary film
This year makes the 50th anniversary of The Beatles' rooftop concert. We have learned that Peter Jackson is working on a new film featuring that session.
Ringo :Well, it's footage from those days that has not been seen. And we had 56 hours of footage that was not used (in "Get Back Session")!
The movie "Let It Be" was edited by Michael Linsey-Hogg at the time and I wasn't really happy about it. It daringly shows John and Paul having a run-in, you know. In fact, we had a lot of fun and shared so much laughter. And we had great music then. Peter and I checked all the unseen footage from that film together on iPad. The new film Peter Jackson is working on focuses more on the real atmosphere of that era including us and it will certainly inspire people more.
#dearMoon Project
<#dearMoon Project> is the world's first private space project to be conducted in 2023 that 8 artists at most will travel to the moon including painters, photographers, musicians, filmmakers, etc.
Ringo :Passengers to the moon, yes, yes.
Mr. Maezawa, the originator of this project, has the same "Love & Peace" message as you and used be a drummer playing with a band.
Ringo :Tell him I want 2 seats. I don't know if I can go to the moon, really. In my head, I'm interested. But I don't know about my heart.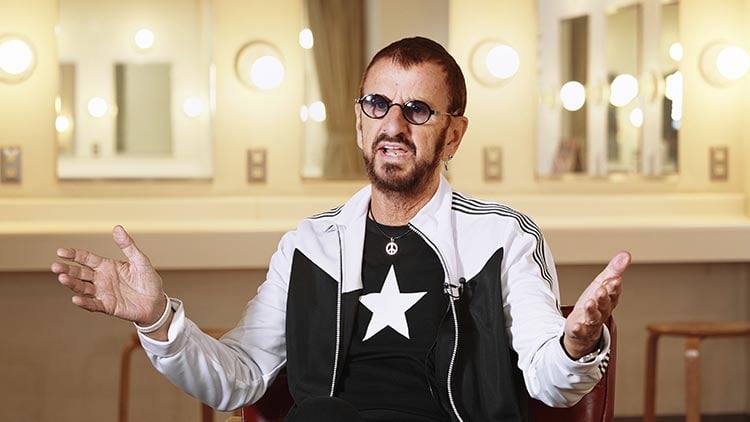 You would have a lot of inspirations on the moon.
Ringo :Yes, a lot of songs saying, let me get home [laugh].
Message for private citizens and MZ on their journey to the moon
We look forward to your "let me get home" songs. Now, please give a message to the first private citizens and Mr. Maezawa on their journey to the moon.
Ringo :All the people who are going to the moon, peace and love. Peace and love. Are they going to go walking on the moon? Just around it?
Just flying around it in the spaceship.
Ringo :Okay. It's going to be a tough journey.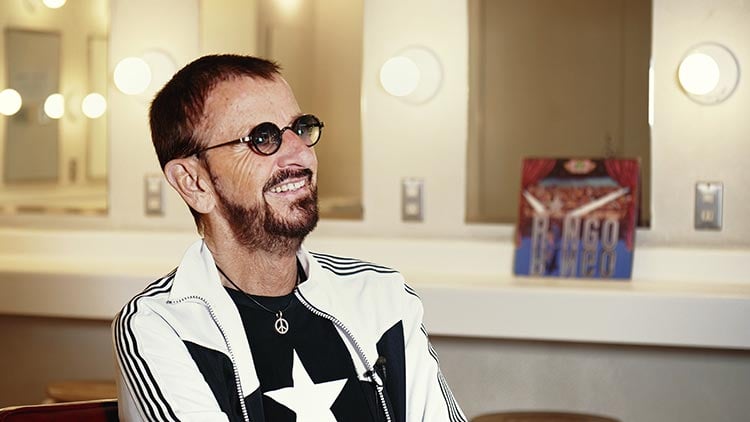 When the Beatles stayed in India, Ringo was the first one to give up and went home. His comment on the moon project also shows his honest personality.

Ringo Starr and His All Star Band played a wide range of all those hit songs from the Beatles, his solo projects, TOTO, Santana and Men at Work. Their "Peace and Love" message must have touched so many people's heart during their Japan tour this time.
Interview & text by: Takanori Kuroda/Rolling Stone Japan